Profile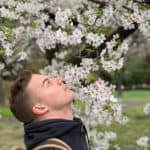 Jordan McElwee
Curriculum Vitae
Education

Northgate High School for GCSEs (2007-2012), Dereham Sixth Form for A-Levels (2012-2014), University of Sheffield for undergraduate (2014-2018) and same again for PhD

Qualifications

GCSE: 1 A*, 5 As, 10 Bs. A-Levels : A* in Maths, A in Physics and A in Chemistry. Also 2 AS-Levels in Further Maths and an Extended Project. Degree: First Class Master's degree in Physics and Astrophysics. PhD: Experimental Particle Physics (I hope!)

Work History

I worked in a bar for 7 years during my A-Levels and the summers in University. I also taught English at a school in Italy in the summer before my PhD (although I speak very little Italian!). I now teach in the 2nd Year Undergraduate lab, attempting to teach them coding and electronics (alongside my PhD)

Current Job

PhD Student and Graduate Teaching Assistant

Employer

The University of Sheffield
Favourite thing to do in my job: Give talks at conferences and also to the general public about science and my research

About Me: I'm a PhD student in Sheffield who finds it impossible to sit still, spending my time travelling and doing anything to stay out of the house

Read more

I grew up in Norfolk and was a bit of a chaotic child (sorry Mum!), though not much has changed. I made a mess everywhere I went and was enthusiastic about anything I could get my hands on. I loved playing sport and reading (while secretly wanting to be a spy).

I spent much of my time as a youngster on stage associated with a musical theatre company – I've always been a performer at heart. I was there for 8 years and performed in 15 different shows, this is probably why I like giving talks and tours of the lab, it's almost like performing! This also led to my habit of annoying housemates by singing and playing my keyboard at any/all times of the day (and night). I've also just started working with the University Radio Station on our science podcast, you should give it a listen!

I did my undergraduate degree in Sheffield, and liked it here so much that I stayed for my PhD. However, I've just got back from living abroad for 4 months working on my experiment (it's tucked away in Japan!). I spend most of my time in Sheffield doing whatever I can to get out of the house. This can be climbing, ice skating, meeting up with friends, or whatever anyone happens to suggest at the time. I find it hard to sit still for very long!

A lot of my money is spent on travelling. I don't care where I go, as long as I haven't been there before! I'm very lucky to be in a job that allows me to travel for conferences all over the world. Much of my travel is to Berlin to visit my partner (my German is slowly getting better…), though soon she will be here for a few months so I might be able to spend money travelling elsewhere!

My Work: I study how neutrinos (one of the smallest particles we know) interact with the atomic nucleus and also how light travels through our detector

Read more

I work on 3 experiments called T2K, Super-Kamiokande(SK) and Hyper-Kamiokande(HK), as you can tell we're really imaginative with names. We study neutrinos, which are one of the smallest particles we know. They are probably the second most common particle in the Universe after photons (particles of light), yet we know very little about them! They come in 3 different types (or 'flavours') called the electron, muon and tau. However, they do something very strange called 'oscillation', where one flavour can change into another; in general life this would be like throwing an apple into the air and catching it as an orange!

Because of how small they are, they are very difficult to detect… 100 trillion pass through your body every second but only 1 in 4 people get 'hit' by a neutrino in their whole life (don't worry, you won't notice)!

So how do we do it? We fire a beam of muon neutrinos from one side of Japan to the other, 295 km away. These are fired at SK (known as the far detector), which is a huge cylindrical water tank, 40 m high and 40 m wide. This contains 50,000 tons of water, and because it's so big it is much more likely to have a neutrino interact with it. We are interested in how many of our neutrinos change into other types by looking at the light they give off as they travel through water. Using this light, we might also be able to work out other properties too!

HK will be our new far detector. It will be much bigger than SK, holding 250,000 tons of water! Both SK and HK are buried deep under mountains in Japan, this is to stop us from seeing other particles in our detectors that we aren't interested in. Therefore, a lot of my time can be spent in the mine under the mountain, not seeing the Sun for days!

As the experiments have hundreds of people working on them, we all do slightly different things. I use data we collect to try to work out the differences in how neutrinos interact, as it can be very complicated, and with this information it's easier to work out properties of all neutrinos!

We also have a laser system installed inside SK, and I use this to work out how light travels in the water, which can make our data much more accurate. At Sheffield we also have a mini water tank, which we can use to test hardware that we can put inside of SK and HK.

My Typical Day: I get up early to exercise, then into the lab to check everything is okay. After that I look at my data to try and work out what is happening. In summary: coffee, coding and classic rock!

Read more

I'm up at 6 for a coffee and breakfast, then in the gym for 7 (fitness is important!). I'm then in the lab for 9:30 to take measurements in our mini water tank and check everything is okay (if it's not… fix it!). Then I can be found at my desk, surrounded by a collection of lego figures.

Usually I'm writing and running simulations of our detector, these can then be compared to data we've collected from the real detector in Japan. By doing this, we can check whether we can find out how well we understand what we're doing (often, it's not that well…).

I will sometimes be in the lab designing and building electronics which help to take the data automatically, and make my job easier in the long run! As I'm normally the only one in the lab, I have some classic rock blasting through some speakers.

After spending the day (trying) to work hard, I'll leave around 6/7 to spend time with my housemates, playing board games or going climbing!

Of course throughout the day, I always go for tea and coffee with people in my office, or around the department. This is often where the best ideas happen, when everyone is relaxed and having a chat!

If I'm in Japan at the detector, my day is very different. I have to be up early to catch a lift at 8 am to be driven into mine, if I miss it I can't go! I then have sit in the control room and make sure the detector is running smoothly. I also use this opportunity to fire the laser into the detector, I can then use this data when I'm back in Sheffield to help me with my analysis. Once it's time to leave the mine, control of the detector is passed to the next person – we always have someone checking to make sure it's all okay!

What I'd do with the prize money: Using a Virtual Reality headset to have an interactive model of Super-Kamiokande, which can be taken around to schools and Sixth Forms to see what the detector is like on the inside

Read more

It can be hard to visualise anything about neutrino physics, it's all pretty abstract (even for the physicists who work on it)! I want to use virtual reality so we can 'put' people inside the detector, so they can see what it looks like and how things work. You'll even be able to throw particles around on the inside, and see the light they create in front of your eyes!

I would like to take this round to schools and Sixth Forms (plus anywhere else I can think of!) giving talks about particle physics, and using this as a fun visual aid to see what experiments are really like. This will help to engage people in what can be a difficult area to grasp.

My Interview

How would you describe yourself in 3 words?

Excitable, friendly, positive

What or who inspired you to follow your career?

David Attenborough was the first to interest me in Science, but it was my Grandad who showed me the way to physics

What was your favourite subject at school?

Drama! I didn't find physics interesting until my A-Levels

What did you want to be after you left school?

Originally a palaeontologist… I loved dinosaurs

Were you ever in trouble at school?

Sometimes, I was a bit too energetic to be trapped in a classroom

If you weren't doing this job, what would you choose instead?

I think I'd still be in science, maybe in engineering or biology? (Or maybe I'd be a famous actor!)

Who is your favourite singer or band?

Probably AC/DC or Metallica

What's your favourite food?

BBQ ribs

What is the most fun thing you've done?

Snorkelling in La Palma

If you had 3 wishes for yourself what would they be? - be honest!

Own 2 dogs (at least of them a Samoyed), have my own lab for designing and building electronics, learn a new language

Tell us a joke.

Sherlock Holmes and Dr Watson are going camping. They pitch their tent under the stars and go to sleep. In the middle of the night Holmes wakes Watson up: "Watson, look up at the stars, and tell me what you deduce." Watson: "I see millions of stars and even if a few of those have planets, it's quite likely there are some planets like Earth, and if there are a few planets like Earth out there, there might also be life." Holmes: "Watson, you idiot, somebody's stolen our tent!"
---
---
---